Some images of the many hundreds of visits I have made to schools of Years 3 to 11 over the past ten years or so, always promoting the importance of Reading for Pleasure and sharing the inspirational story of my journey to becoming an award winning author.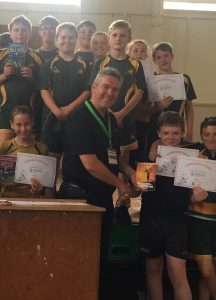 News – World Cup Story Writing Workshops
Building on Wales' success in reaching the FIFA Men's World Cup Finals in Qatar, and tapping in to the strong Welsh teamwork message of Together Stronger & the inspirational Welsh passion inspired amongst fans by Yma o Hyd, I'm now delivering my 'World Cup Story Writing Workshop' to Primary Schools across Wales. Most suitable to Years 5 and 6, I'll be bringing my collection of memorabilia which includes an international shirt worn in a past tournament, an authentic Wales shirt, a selection of footballs related to the current and past tournaments and also the star attraction of a replica, full size World Cup Trophy. This memorabilia will be used to inspire engagement with the writing topic and also stimulate descriptive writing amongst the narrative story. The workshop will see me share my ideas around research, using the best possible and most relevant vocabulary, thinking about characters and place and giving instruction on a simple planning template to organise the story. I will also include my own unique World Cup Story that I've written for the children to use as a basis for their own ideas. The workshop is aimed at one class for a whole day and guarantees engagement with story writing. If you are interested in booking me to visit your school, please see my contact details on the first image attached and drop me a line to register your interest. All sessions are chargeable.
Many thanks, Diolch yn fawr, Dave ⚽️🏴󠁧󠁢󠁷󠁬󠁳󠁿
Covid-19 – Virtual Visits News
Obviously, Covid-19 continues to have a massive impact on everyone involved in Education, with in-person school visits by authors being one of the many things to be affected. As a result, whilst I am still offering in-person school visits (subject to your own school's rules and regs), I now offer Virtual Visits of up to an hour per session. These Virtual Visits will focus on the inspiration of reading, especially targeting those young people that might have got out of the habit during lockdown. I will talk about the importance of Reading for Pleasure and how it changed my life and turned me into an award winning author. My talk will feature: 
Books I read as a child/young person that influenced my writing
The journey of becoming a writer from a keen reader and how it led me to writing books for elite sports people like Premier League Footballers, International Rugby Players, World Champion Boxers and Olympic Gold Medallists
How I used my lifelong love of sports to become a Children's Author of sports based stories
How I come up with my ideas, how I plan my writing and how I create my characters
A reading from my award winning Children's Book series, 'Chasing a Rugby Dream', that I've written with legendary International Rugby player, James Hook.
A Q&A session where pupils can quiz me on anything about the life of an author, being inspired by the many sports people I've met and worked with, books that I've read, tips about writing…or anything else they care to mention!
Please just contact me here
or drop me an email to dave@david-brayley.co.uk and I'll endeavour to get back to you within 24 hours.
Book Launch News!
Read all about my latest series of award winning children's books, written with Wales and British and Irish Lions rugby legend, James Hook, the second of which, 'Impact', was published in October 2021:
The first book in the series, 'Kick-Off', won the prestigious Telegraph Children's Sports Book of the Year for 2021. More information about the book can be found here: 'Chasing a Rugby Dream'

My Visits
My school visits are varied and range in content, dependent on the specific needs of the school concerned, ie whether it is a Primary or Secondary school. All my visits and literacy workshops are underpinned by my passion to share a lifelong love of reading and involve spreading the understanding of the importance of reading to the pupils as a pillar to educational success and a gateway to future gainful employment.
The following list is an example of what I offer on my visits. Dependent on the length of visit, some of my visits may be as short as an hour, or can be all day, working with different groups, classes, in the school throughout the day. I have also delivered longer projects, where I visit schools for a weekly session over a several weeks, to create more of a substantial writing project. I work with pupils across all Key Stages from Year 3 to Year 11.
The type of visits can be:
Inspirational talks and Q & A session
Reading for Pleasure workshops
Writing workshops based on the content of my novel 'Champion of Champions' and my award winning 'Chasing a Rugby Dream' series.
Bespoke comprehension and quiz activities based on the inspirational sporting content of my books
Creative writing workshops based on my unique 'Closed moment of sport' technique and using the inspirational messages of sport, especially from working with elite sports people such as Wales football captain, Ashley Williams
Descriptive writing workshops based on the collection of elite sport memorabilia I can bring in for the pupils to describe and then write about with empathy, as if they were the sports person concerned
Sports journalism workshops
Workshops focussing on resilience and inspiration in sport, using real life sports stories of male and female athletes to demonstrate the inspirational qualities required to become a success. I link all this work back to books pupils can read to learn more about these inspirational role models
World War II Writing Workshops, using genuine wartime memorabilia like uniforms, medals and helmets to boost pupil engagement
'Sports Talks' – my talking workshops designed to encourage debate and discussion by using carefully selected sporting topics, designed to provoke a passionate response from people to encourage them use their oracy skills in the most effective and efficient way.
This is not an exhaustive list, and I can provide more information if you contact me. I try to be as flexible as possible to the requirements of your school. All sessions can be run between Years 3 to 11 and across different levels of attainment. If you would like to discuss me visiting your school, please contact me here.
Feedback
"Inspirational workshops from David. Great to observe total engagement from our pupils – and staff! Looking forward to working with David next term." Vanessa McCarthy, Headteacher, Brynnau Primary School.
"The children and staff were so interested and inspired in your lessons. I love your passion for combining the skills learnt in sport to reading and life in general." Steve Brown, Headteacher, Clwyd Primary School.
"The staff and pupils enjoyed and learnt a lot; your advice will be the basis for our writing preparation for the November exams. It's also great to get boys especially a bit excited about writing! Hope to organise future visits" English Department, Ysgol Maes y Gwendraeth.
"The children loved your session & they showed great enthusiasm & such quality of writing. They are all desperate to continue & I can't wait to get their written pieces into their books!" Penllergaer Primary School.
"I would say that without a shadow of a doubt, thanks to Dave's work, this is one of the most powerful projects we've been involved with in terms of direct pupil impact." Dylan Thomas Community Secondary School, Swansea
"I wanted to thank you for the lovely work you did with both classes. I was inspired and very interested and the feedback from the children was the same. We did finish the work by late afternoon and I was pleased and impressed with it." Tre Uchaf Primary School
"Everyone has thoroughly enjoyed spending time with you and listening to your life stories. The children have been inspired about reading and writing." Clwyd Primary School
"The children and staff thoroughly enjoyed your visit. It's great for pupils in the area they live in, especially the boys, to hear your message. For our older pupils it's not 'cool' to enjoy reading so your message went some way to reversing that mentality." St James Primary School.
"During his visit to the school, Dave was able to inspire Year 8 members of the "Premier League Reading Stars" Literacy Intervention Group to read about their love of sport whilst delivering a highly engaging, honest and passionate talk. During his workshop, Dave spoke to the children about his own career to-date and his own journey (both the highs and lows) of his career thus-far. Dave was able to relate to the children about the importance of reading, whatever your age or ability and rounded off his visit by asking quiz questions based on an extract from one of his books. Dave has been a regular visitor to our school to deliver his workshop and is always one of the first names on the "team sheet" if you want to inspire disengaged pupils to want to read". Ysgol Dyffryn Aman Secondary School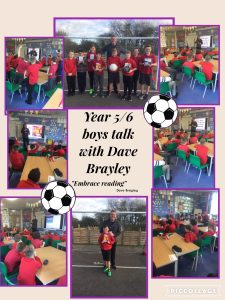 "An author I'd recommend heartily." Tom Palmer, Author and school visitor.

About Me
I have been doing visits to schools to promote reading and writing since 2008. I travel all around the UK to spread the message of the importance of reading for pleasure and the need for young people to develop their writing skills. I work with pupils from Year 3 all the way up to Year 11.
I believe passionately that sport and sports writing offers a unique opportunity to inspire young people – particularly boys – into improving their literacy standards.  Since 2015, I have also been an Ambassador for the Premier League Reading Stars programme for the National Literacy Trust, and regularly take part in their school sessions as a visiting author. I even embarked on an author tour, and during April and May 2016, I visited over 50 schools as an author for the PLRS, delivering whole school sessions and Q&A sessions with targeted groups. I have worked with football clubs such as Swansea City, Everton, Cardiff City, Newport County and Doncaster Rovers at their Club Literacy Days.
I work very closely with Glamorgan County Cricket Club, delivering educational programmes for them to schools who have become part of their education network. In 2018, I delivered a significant project for Glamorgan, in partnership with Literature Wales, at Mount Stuart Primary School which helped tell the story of Cardiff's forgotten Victorian philanthropist, Frederick de Courcy Hamilton. Details of the project are here.
Since September 2017, I have been a Patron of Reading at Ansford Academy Secondary School in Somerset and make regular visits to the school as part of this wonderful scheme. In 2018 I was approached by Ysgol Dyffryn Aman to become their Patron of Reading, a role I was delighted to accept.
"The engagement displayed by the pupils is absolutely the result of David's enthusiasm and delivery." Ansford Academy Secondary School.
If you would like to book me for a visit to your school, please contact me.
Ysgol Dyffryn Taf secondary school teacher Rhian Philips said of my visit:
"Dave's passion for sport and literacy was evident throughout his visit, as he captivated and completely engaged the boys. The pupils asked thoughtful and relevant questions during the session. Dave's open and honest approach to answering the pupil's questions truly motivated the boys.
The boys all reported back about how much they enjoyed the day and "how they could have listened to him all day." The staff who were fortunate to listen in on Dave's session thoroughly enjoyed."
I am also an expert in delivering educational sessions and projects using iPad digital technology and sport as a vehicle to engage, inspire and enthuse children to want to embrace all aspects of literacy. In pursuit of this, I have formerly been an official Google Educator, Apple Teacher and Seesaw Ambassador.
Between April 2014 And May 2015, I was seconded to Dylan Thomas Comprehensive School as part of Swansea Council's international award winning LIFE Programme, to deliver my Sports Literacy work across every child in Years 7, 8 and 9 and also deliver the same across the six feeder Primary Schools for Dylan Thomas.
Prior to working with Dylan Thomas School, I also worked in partnership with PESS  to deliver my Sports Literacy work to four Primary schools (Townhill, Seaview, Gors and Blaenymaes) and Bishop Gore Comprehensive school in Swansea. Details of this ground breaking and extremely successful project with full details of the extraordinary results that were delivered can be found here. Here are some of the comments I received from the various schools that I delivered my course to, taken from the overall evaluation of the project:
"Levels of oracy have been improved, especially with some of the more difficult to reach boys"
"It has been fantastic working with Dave. He has developed fantastic relationships with both staff and pupils. His enthusiastic delivery of lessons has been action packed and fun filled for our children, where their confidence to express themselves orally has certainly increased."
"This has been an outstanding piece of work. The children have been inspired and motivated to improve their skills in order to interact successfully in the project at every level. Standards have risen dramatically, confidence and self esteem have soared."
"Children whom in the past had appeared quiet and reticent to sharing their views and opinions thrived in the environment provided by Mr Brayley."
"I would say that without a shadow of a doubt, this is one of the most powerful projects we've been involved with in terms of direct pupil impact."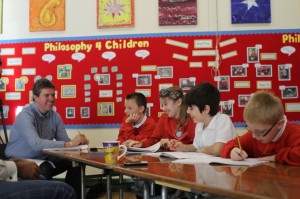 In addition to working with the schools mentioned above, I also enjoyed a very successful time working with Tirdeunaw Primary School, a Welsh language school, where again, sport was used to help boost their English language skills to great effect.
Following my success in working with schools to promote literacy, I was asked to  front the Welsh Government's Better Reading Campaign for Autumn 2012 with Swansea City and Wales' Ashley Williams. You can view the three videos that were made and recorded at Swansea City's Liberty Stadium to promote the campaign here: Video One. Video Two. Video Three.
The background to my current work in Sports Literacy for Swansea Council's national award winning LIFE Programme began in 2010, when I instigated and led a sports literacy project at Casllwchwr Primary School, where I've been a governor since 2001. I invited six sporting legends – Ieuan Evans, Clayton Blackmore, Ashley Williams, Enzo Maccarinelli, Robert Croft and Nicole Cooke – to attend the school and take part in the project. The result, a sports book, "Believing is Achieving", made a significant impact and increased literacy standards in boys.
The key results of the project were that boys outperformed girls by 21% at Level 4+ in English at Key Stage Two which was a 47% turnaround on the previous three years results.
In addition, during a full ESTYN inspection of the school, I led one of the sessions about the project and ESTYN awarded the lesson a grade one.
I was subsequently invited to Swiss Valley Community School who wanted to replicate the project.  I launched the project in January 2011, and with the school replicating my "Believing is Achieving" model almost completely, their version of the book, "Chase your dreams – Anything is possible", won an award at the Welsh Heritage Awards – Schools Initiative 2011.
In 2012, I then delivered another leading literacy project at Casllwchwr Primary where I focussed on the incredible ground breaking achievements of rugby player turned explorer, the inspirational Richard Parks. My project was based on his astonishing achievement in completing his 737 Challenge and I arranged with Richard for him to visit the school to be interviewed by the children as the centrepiece of the project. This project itself involved three classes from Year 4 to Year 6, and resulted in a fully printed adventure magazine based on Richard's achievements being created by the children, which I edited.
Following the success of all these undertakings, I was asked by Swansea Council to pilot my Sports Literacy approach at Sea View and Townhill Primary Schools in Swansea, but this time using Digital Technology, using iPads. The success of these pilot schemes in two of the most socially deprived areas of Swansea have now led me to become the full time LIFE Sports Literacy Officer for the national award winning and boundary breaking educational initiative, the LIFE Programme.
During the 2012-13 academic year, I delivered two Sports Literacy projects at Sea View Community School, one of which involved working closely with footballers from Swansea City Football Club's Youth Academy and succeeded in raising literacy and engagement levels in the Year 6 class to levels never before seen at the school. Full details of the success and outcomes of my work with Sea View School can be found here.
Details of my current work with the LIFE Programme can be found in my Sports Literacy Blog here.
Should you wish to contact me with a view to me visiting your school to deliver one of my engage, inspire and enthuse Sports Literacy workshops, please feel free to contact me using the online contact form.