Latest News!
Following the incredible success of our Award-winning book, 'Kick-Off', the second book in our 'Chasing a Rugby Dream' series of rugby books, 'Impact', was published by Polaris Books. Available from all usual book outlets at £8.99, 'Impact' picks up the story of Jimmy Joseph and his rugby mad friends, Kitty, Manu and Matt.
Buy your copy here: Impact
At a gala event at the Oval cricket ground in September 2020, James Hook and I were winners at the Telegraph Sports Book of the Year Awards. Our book, 'Chasing a Rugby Dream: Kick-Off', was named Children's Sports Book of the Year in an award sponsored by the National Literacy Trust.
It is an incredible honour to receive such a prestigious award and James and I are extremely grateful to the panel of judges who voted for us.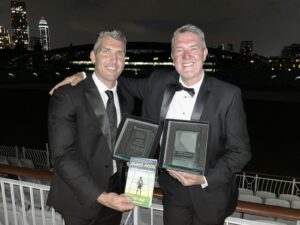 ———————————
I'm delighted to be able to announce two new books that will be released in 2020.
I have collaborated with Wales and British and Irish Lions legend, James Hook, to deliver a series of Children's rugby books.
The books, published by UK leading rugby publisher, Polaris Books, tell the fictional story of Jimmy Joseph, a ten year old rugby loving schoolboy with a unique rugby talent. The stories, which are titled 'Chasing a Rugby Dream' will share with the readers the ups and downs of Jimmy and his best friends, Matt, Manu and Kitty in their exciting adventures on and off the rugby field.
The first book in the series, 'Kick-Off' will be released in May 2020. Buy your copy here: Kick-Off
I have now written six books and been content editor and contributor to one other.
'Champion of Champions' – "…a great, inspirational and pacy read, beautifully written and utterly enriching with a stunning climax…" Peter James
"A great book by a wonderful Welsh author, that I highly recommend". Rob Brydon
My latest book is a novel called "Champion of Champions" which tells the story of a disaffected teenager who finds happiness in the world of cycling, discovering a link to a great of professional cycling's past, through a unique relationship with his grandfather. However, the grandfather hides a dark sporting secret that threatens to tear a family apart. Published by well respected Leeds based sports publishers, Scratching Shed , multi award winning and multi million selling author, Peter James, said of the book "It is a terrific book that contains two things that are dear to my heart. The love of sport and the love of reading. Although written principally for the younger market, I think this is a book that would appeal to all ages, regardless of whether you love cycling or not. It is a deep, rich story about family conflict, history, determination, achievement and ultimate success. I hope you enjoy it. It fully deserves a wide readership."
My first public work was the 2008 critically acclaimed "There's Only Two Tony Cotteys" published by Gomer Press.
Nominated for the William Hill Sports Book of the Year Award (eventually won by Marcus Trescothick's "Coming Back to Me"), the book was also long listed (along with Trescothick's) for the MCC/Cricket Society Book of the Year.
In selecting it for their long list, John Symons – editor of the Cricket Society Journal reviewed it as follows:
"With a title adapted from one of the few genuinely amusing football chants, a player who embraced both football and cricket tells a story of a life in both sports. Tony Cottey regards himself as a journeyman but proof here that a career spent without star billing can be compelling if an author can ally a sometimes brutal honesty with keen and unflinching observation. He may stand only five feet four inches but Tony Cottey demonstrates in this book the proof that good things can come in small packages."
The book received very positive reviews on Amazon from sports readers around the UK.
I followed that book with a unique and extremely enjoyable project in which I shadowed then Swansea City and Wales captain Ashley Williams for 12 months to co-write his "Premier League Diary" for Y Lolfa. The book was Wales' highest selling Welsh book in December 2012 and leading Welsh football columnist Mark Pitman wrote of the book;
"While the concept (of the book) is a straight-forward one, this book is far more than a rushed summary of a memorable season, but it is the changes that take place in Williams' personal and professional life during the course of his diary that provide the catalyst for the reflective thoughts that make this book unique. In a similar way to 'The miracle of Castel di Sangro' by Joe McGinniss, this book proves enthralling due to the events that happened to occur during the chosen season."
Leading football publication "When Saturday Comes" gave the following review of the book;
"It is not that there is any single blinding revelation in his account of Swansea's 2011-12 season. Instead there is an accumulation of detail, anecdote and observation, forming a compellingly credible picture of footballing life. Credit to David Brayley, who clearly asked the right questions in assembling a book whose clarity and easy conversational flow make for great readability.
There's sharper, clearer tactical analysis than in 100 editions of Match of the Day and intuitive observation of team-mates, notably a brilliant exposition of Leon Britton's role in Swansea's rise. No Manchester City fan can be shocked by his view of Scott Sinclair as a gifted player who "probably doesn't believe in himself enough and actually lacks a bit of confidence".
In 2014, I completed two further books. They are Quiz and Fact books, commissioned by and written for Swansea City Football Club (Gomer Press) and based on the history of the club. Volume One was launched in June 2014 and Volume Two followed in October. Both made the top 10 selling Welsh books for December 2014.
Both are still available direct from Swansea City Football Club and my publishers, Gomer Press. The books are aimed at all Swansea City fans, but will hopefully also appeal to the younger element of the club's fanbase who will hopefully see it as an entertaining introduction into the colourful past of their great club.
In addition to the books mentioned above, I also edited and contributed to the children's sports book "Believing is Achieving" which made an extremely positive mark in the world of education in Swansea. More about the book and it's impact on raising levels of literacy in Key Stage Two can be found here.
If you would like to know more about me or my work, or if you have any writing projects that you feel I could assist you with, then feel free to contact me via the online contact form.