I must admit, I love a cliché. And, working in the world of sport, there's no better environment than a sporting one that is more suited to serving up a classic cliché or two: 'one game at a time', 'they talk a good game', 'it's a game of two halves', 'the ball's in your court'…the list is, literally, endless. And in this age of social media and one of memes and gifs, it seems language and phrases are changing and developing daily. But one cliché that has intrigued me for years, and is often associated with the people who have played professional sport, is, 'don't meet your heroes', which usually sits comfortably alongside, 'idols with feet of clay'. The inference being that some of our on-field sporting heroes are not very pleasant individuals off it.


Now, on the meeting your heroes front, I must admit, I've been very lucky and from two perspectives. Firstly, through working in sport via my writing, over the years I've been blessed with having had numerous opportunities to meet many of my heroes. International footballers, World Champion boxers, legendary cricketers, polar explorers and some giants of Welsh rugby…I've been incredibly lucky. Secondly, that luck has stretched to my positive experiences in meeting these people. There's not one, in the literally dozens that I've been so fortunate enough to meet, who has sent me scrambling quickly for the exit sign.


There was one very funny occasion at a Wales v England football match at Cardiff, where at a post match function, I ended up in a round with a very menacing former international of, shall we say, a very competitive era of football. He'd had an afternoon of hospitality which had loosened his tongue regarding the hard men of football he'd encountered, and the more the stories flowed, the more vicious his delivery of them became. There was a point when I thought it might be best to move on, but then, like a light switch being flicked, he changed tack and started talking about the funny characters he played with in the game, and the conversation quickly moved to a far lighter and more humorous place!

I remembered that meeting this week, when it was confirmed that I was in fact going to meet one of my heroes, or more accurately, one of the heroes of my parents, too.

My mother, Marilyn, took me to my first ever football match, Swansea City v Lincoln City in 1973. It was a seminal moment for me as it planted, deep inside, a lifelong love of football in general and Swansea City in particular. It also put me on a path to finding out as much about the club's history as I possibly could, from Billy Ball, to Wilfy Milne, from Joe Sykes, to Ivor Allchurch, from Mel Nurse all the way up to Alan Curtis, the hero I saw for the first time, that afternoon against Lincoln.

As my knowledge of the club grew, the information I would get from my mother, and also my father, Derrick, who had both supported and followed the old Swansea Town in their youth, was often centered on the legendary team of Swansea Town's golden era of the mid 1950's. I could name that team for you now, but the three names that most regularly left the lips of my parents were always the same – Ivor Allchurch, Cliff Jones and Terry Medwin.

Obviously, I'd never seen a moment of them play, as they'd all retired by the time I was a babe in arms and as the internet was not available to a sports mad kid growing up in the 70's and 80's, I had to make do with old photographs and the stories of these gifted forwards in the great books on Swansea Town's rich history, by authors like Brinley E. Matthews and Professor David Farmer.

And, of course, when I was being told of these players by my parents or reading about them in my pursuit of sporting knowledge, one other thing was always mentioned, the 1958 World Cup in Sweden. Many say that West Ham won the World Cup in 1966, in tribute to the efforts of Messrs Moore, Hurst and Peters. Well, if that's the case, then Swansea Town reached the Quarter Finals of the 1958 World Cup, as the Wales team contained six players either born in the town, or were past or current players of the town's team – Jack Kelsey, Mel Charles, Terry Medwin, Ivor Allchurch, John Charles and Cliffie Jones.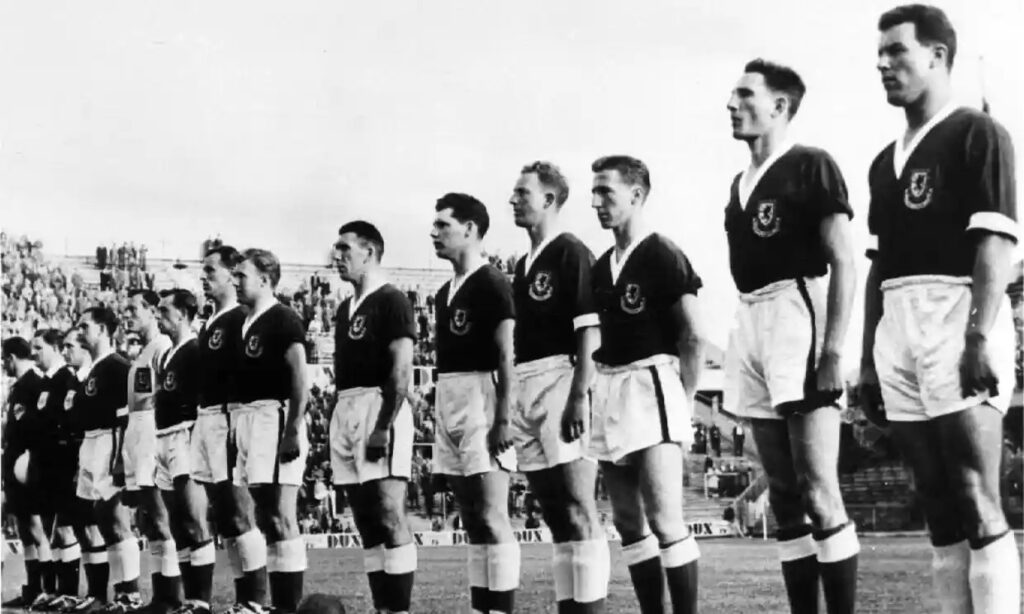 About three months ago, Helen John of Ospreys in the Community, the charitable arm of The Ospreys, and the person responsible for running the region's excellent Sporting Memories clubs, contacted me about delivering some presentations for their groups located around the Ospreys region. I'd been lucky enough to have delivered many sessions for her over the past few years and was delighted to meet with Helen again to make a plan.

For those of you that don't know, the groups that Helen expertly runs and co-ordinates with her excellent and caring team, target those older people in society, who might be experiencing the effects of early onset dementia or are providing care for a loved one suffering in this way. Additionally, largely due to the loneliness issues highlighted by the Covid lockdowns, they are also open to those who may feel the need for some interaction with others who all have a common thread in life, namely, an interest in sport. Each week at her groups in Ynystawe CC, Swansea RFC, Dunvant RFC, Skewen RFC, Aberavon Green Stars RFC, Loughor RFC and Neath RFC, like minded people meet, and over tea, coffee and biscuits, play sporting games, chat about players of years gone by, enjoy quizzes or listen to sports based talks by people like me. Helen mentioned that we would be in the middle of the 2022 World Cup, so that was an obvious starting point, and as soon as she said it, I replied with, '1958. Let's talk about the Boys of 1958'. The deal was done.

Now, anyone who knows me, knows that my lifelong passion is sport. As a result of that, I'm aware that many other people share that passion, not least, great former sports people of the past. Because of this, I have been known to be a little bit cheeky in asking former players to take a small involvement in our sessions. In fact, during the summer, in a session I delivered that highlighted the sporting importance of St Helen's rugby ground, I discovered that a former captain of Swansea RFC, Stuart Davies, who played in the centre for Swansea in 1966 when the All Whites beat the touring Wallabies, would be in attendance. Having recently watched an Australian documentary on YouTube about that tour, I found out that the person who played opposite Stuart in the centre for Australia that day, John Brass, was still alive and well and living in Queensland. With the help of my cousin, Mick Mate in Brisbane, he tracked John – a living Aussie rugby legend – down for me and I then asked John if he'd send a message for Stuart that I could play during my talk…if you don't ask, you don't get! John's lovely video message to Stuart was the highlight of the day.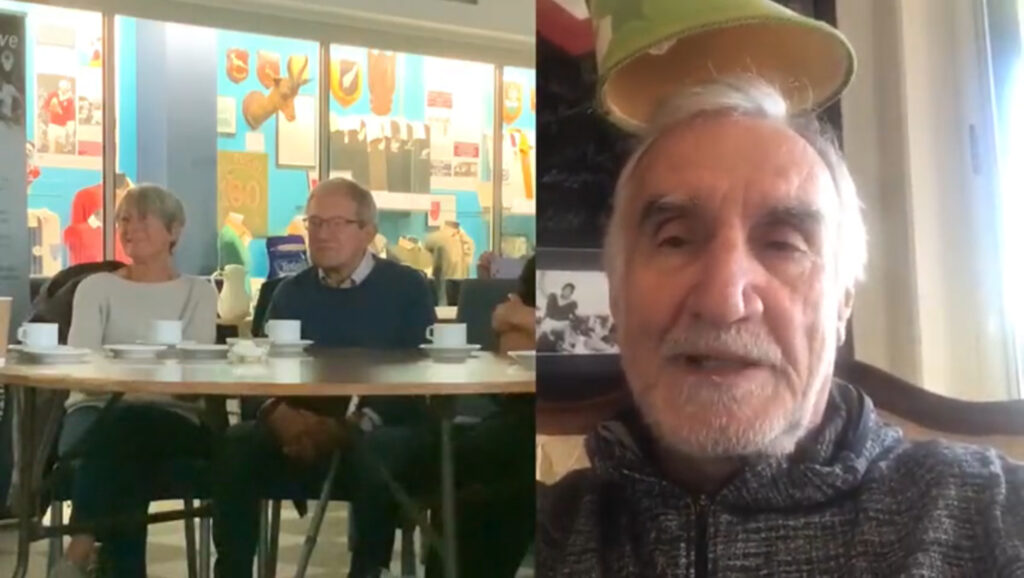 So, when I'd pretty much finalised my talk on the Boys of '58, I had another brainstorm. All the players who went Sweden – only 18 of the chosen 22, because the Welsh selectors needed the extra seats for their wives! – have now sadly passed away, apart from two. Cliff Jones and Terry Medwin. Luck would have it that I'd previously met Cliff Jones's media agent, Andrew Wilson, so approached Andrew to see if Cliff might provide a short video message for me to share with the groups, as a way of ending my talks. Unfortunately, Cliff was already very busy with his other commitments revolving around the current World Cup, but Andrew did then ask if maybe I'd be interested in Terry Medwin and his lovely wife, Joyce, actually attending the session at St Helen's. I couldn't have been happier at the offer and quickly agreed.

And so it was, that this past Tuesday afternoon, I found myself meeting not just a hero of mine, but a hero of my mum and dad's, at the front steps of St Helen's Rugby Ground…and what a pleasure it was. Terry is 90 now, and is perhaps not as swift on his feet as he once was when he terrorised defences in the First Division for Tottenham Hotspur in their legendary double winning squad of 1960-61, and of course, for Wales on the world stage. But his ready smile and gentle manner was a delight. As was his complete enjoyment of the session, sharing with the other members of the group some of his memories of 1958. By his side, Joyce, who had taken the trouble of bringing a framed, colour picture of Terry's Welsh team of 1958, added some fantastic insight into the tournament and Terry's career, that only a wife who has spent seven decades alongside this world footballing legend would know. It was such a special afternoon, and what became a genuine career highlight for me, and one that will live long in the memories of those present in the group – which is the whole point of the sessions – was when I surprised Terry by showing him my replica of the current World Cup, and telling him that whilst he deserved to get his hands on the original, it would be nice if he held this one. Terry stood straight up, held it as if he was still a player, and beaming, showed it to Joyce, first, then the rest of the group. It was magical.

As Helen, reflecting on yet another successful session remarked to me afterwards, 'Bearing in mind the importance of tonight's match, (it was the day of Wales v England), Terry and Joyce could've spent their afternoon with anyone, but they chose to spend it with our group'. She had a point. We were all, so very lucky.

But leading up to the session I still had a problem.

When I knew there would be no message from the other sole survivor of '58, Terry's lifelong friend, Cliff, how was I going to end my presentation? To coin another cliché, I always want to finish with the crowd wanting more!

But then I had a flashback. John Charles, the gentle giant himself, was to feature prominently in my talk, and hadn't I once seen a video of him crooning on a variety programme on Italian TV? A quick search online, and yes, there he was, in black and white, this extremely modest, incredibly handsome and towering hulk of a man, was softly singing, 'Sixteen Tons', a country and western ballad written by Merle Travis, made famous by Tennessee Ernie Ford and covered by others including the incomparable Elvis Presley. The performance was in perfect quality both audio and in vision.

I had my ending.

As I summed up the impact of the boys of '58 to the group on Tuesday, I wondered aloud that if Gareth Bale somehow managed to steer his team to a World Cup Quarter Final, would he return home to the UK and sing his favourite song on a show like 'Britain's Got Talent'? The group looked quizzically at me until I said, 'Well, that's pretty much what John Charles did back in Italy', and then played the video.

Initially, the room went silent as, up on the screen, an incredibly shy and humble John was being introduced in Italian by the show's gregarious host. But then, when he started singing, and his almost perfect baritone, Swansea accented, voice began, a beautiful thing happened. Terry's eyes lit up and the most wonderful smile broke across his face as he watched his legendary teammate – and friend – break into song. Then, the rest of the group, initially as a whisper, joined in and sang along with Big John as the song continued. Another cliché, I'm afraid, but love was all around and it filled the room.

It was most certainly a moment.

Helen and I glanced at each other, and both realised, that yet again, sport had delivered something quite special to this group, which has been replicated at all the other groups I've delivered the talk to this week, across the Osprey region.

To me, it's beyond any reasonable doubt that sport, and it's unique power, can play a hugely important part in bringing happiness to people, whose own connection with sport, might have ended on pitches 40 or 50 years ago. Sport not only helps deliver memories – some long lost in the mists of time, and sadly dementia – but it can also fill a room with genuine warmth and love, as happened repeatedly this week. But it's sessions like these that are designed, above all, to focus on those important memories, thought lost by many, and succeed in bringing them back to the fore.

I witnessed John Charles, Terry Medwin and the Boys of '58 bring back a huge amount of those wonderful sporting memories for people this week…Sixteen Tons of them, in fact.