The ghosting work I did with Tony Cottey on his book has been continued via Tony's extremely popular monthly cricket column in the acclaimed Brighton based sports magazine "Sussex Sport", where I also have my own comment column – "David Brayley, The Final Word" – where I comment on the recent issues around the world of sport.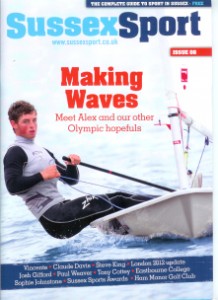 Between 2009-2013, I was also the Chief Sports Columnist for the leading Liverpool based news, entertainment and business magazine "The Mersey", where my brief was to use my vast experience as a football fan to deliver a monthly comment column based on Liverpool and Everton Football clubs.
I was also responsible for many of the magazines interviews such as John McArdle (Brookside, Waterloo Road), Jennifer Ellison (Hell's Kitchen), comedy legend Stan Boardman, British Super Middleweight Champion Paul Smith, Louis Emerick (Brookside), Chrissy Rock (Benidorm) and many other well known Liverpool personalities.
The owner of the Magazine, Chris Lewis said of my time with "The Mersey"; "David's football column quickly became central to our magazine. His obvious talent lies in his opinions, delivered with common sense and humour, but always detailed and beautifully researched. He was with us at the very start of the magazine in 2009, and was a key reason for the continued growth and credibility of our Magazine. All the interviews Dave was responsible for were praised by every one of the celebrities  concerned, especially for the detail and uniqueness of his questions. It was a real blow to us when Dave moved on to pastures new."
I have also covered sport for Wales's premier magazine, Cardiff based Buzz, since 2009, where I provide a monthly sporting round up, reviews of non-mainstream sports that I've participated in for the magazine and interviews with several top Welsh sports people including multi Olympic Gold Medallist, Geraint Thomas, Robert Croft and Ashley Williams.
If you would like to know more about me or my work, or if you feel I could contribute in any way to your magazine or publication, then feel free to contact me via the online contact form.